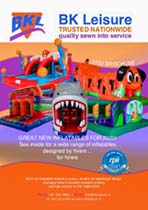 We have huge selection of new products this year and continue to develop and improve our original designs, as let's face it, things can always be made better. Just like top car manufacturers invest heavily in developing new models, we constantly strive for improvement.

That's why we believe our inflatables are of the highest quality in Ireland and we will continue to manufacture them to this standard.

All of our products are 100% compliant with current European Safety Regulation EN14960:2013 so you can rest easy that you are buying a quality and safe product When you purchase a BKL inflatable.